A number of years ago our SS class was looking at Desiring God: Meditations of a Christian Hedonist (book by
John Piper) and finding our joy in God. Here is a reprise of a post on this from 6 years ago.
Isn't it fascinating that this one little thing, praise, can do so much to change the outlook of our entire life?
I can't begin to say how many times my day has been filled with frustrations, irritations, guilt and self-pity when a simple choice to praise the Lord would have radically transformed my outlook for the day! Now, of course, my circumstances would not have changed in the least. BUT how I dealt with those circumstances would have been radically different. And not only that, but praise and rejoicing changes not only my actions and reactions…
it changes ME.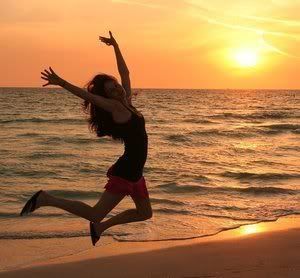 When I'm finding my delight in God I am filled with joy.
When I'm filled with joy my heart in turn delights in God.
And both of these things change who I am and how I respond. My children are much happier when I am walking in joy with the Lord because I am responding to them with that same joy that has transformed my heart.
Isn't it interesting how joy, this little thing, can have such powerful and eternal consequences? Lord, help me to walk today in your joy, delighting in your love and care for me! How can YOU change your attitude today to be walking in joy?
All Scripture quotations are taken from the NASB.
(image courtesy of cinnaminspyce/photobucket.com)