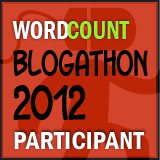 I'm so excited to be participating in my 2nd Blogathon challenge!! There's still time to sign up (until 11 pm tonight) at Blogathon Headquarters.
The goal of Blogathon is to blog 31 days in the month of May. When I did it last year it was QUITE a challenge! I had been blogging for 7 years but never with any regularity.  This pushed me to really sharpen the focus of my blog and to help me define my target audience. Some of the goals were not pertinent to me because my blog is for ministry, but I think the entire experience helped me to hone my writing and zero in on where God was calling me to minister.
So, if you've ever thought you'd like to try a blogging challenge, this is one of the best! Michelle Rafter is a professional writer and set up some wonderful tools and helps for us all, including a Google Group where we had some great dialogue and instructional posts.
Come join us!