This is a re-post from the past.
---
I was asked the question of "is it appropriate for a Christian woman to wear make-up" and I'd like to address that in a post. As always, I'd like to start with some scriptures.
Charm is deceitful and beauty is vain, But a woman who fears the LORD, she shall be praised. Prov 31:30

Your adornment must not be merely external—braiding the hair, and wearing gold jewelry, or putting on dresses; but let it be the hidden person of the heart, with the imperishable quality of a gentle and quiet spirit, which is precious in the sight of God. 1 Peter 3:3-4
First of all, it is important to remember where true beauty comes from. It comes from a heart centered on and surrendered to God. Physical attributes of a button nose or silken skin will fade with time (and gravity). They might show beauty on the outside but when our souls are empty, even the external beauty rings hollow.
We've all seen women who are flawless in their features but there is just something about them that we find wanting. On the other hand, other women have a depth within their eyes that draws us to them. They may not be beautiful, but they are so attractive! Their beauty comes from within – from a heart and life of purpose and and richness.
Now when we look at this verse in 1 Peter 3, is this saying that trying to do things to accentuate our beauty is wrong? Well, if THAT were the case, we would all need to take off our wedding bands and never wear dresses again! (of course there ARE some believers who feel that we are not to wear gold jewelry for this reason, but that's for another post) I need to add that the word merely is not in the original text. Does this make a difference? Re-read the text without that word being there. What is Peter trying to say to us?
(source)
I personally do NOT believe that this passage is telling us make-up (or dying our hair or wearing nail polish or wearing earrings) is wrong. I do think it is important to remember that the FOCUS of our beauty, the CENTER of our beauty, comes from the hidden person of our heart. There is nothing wrong with adorning the outside SO LONG AS we work to adorn the part of us that really counts!
Abraham's servant gave Rebekah a gold ring and gold bracelets as he sought to bring her for Isaac's wife. (Gen 24:22-30)
God tells how He adorned Jerusalem (His beloved) with gold and precious jewelry and luxurious and fine clothing in Ezek. 16:9-13
The father of the prodigal son took gold and rich clothing to place on his son in Luke 15:22
The imagery of Song of Solomon is often about the adornment of fragrance and clothing and jewels as part of the romance of the bride and groom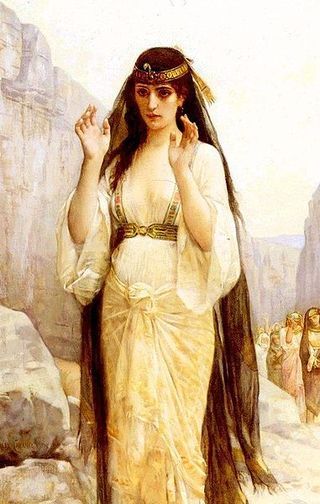 I do think we have some questions to ask ourselves in our using outward adornments to enhance our own beauty:
Are we supplanting our relationship with God with fads for defying age or beauty treatments?
Are we living a life of discontentment with God's design of our bodies?
Are we never satisfied with how we look?
Are we so obsessed with trying to find that perfect beauty that we make beauty into an idol in our lives?
Years ago when I lived in a discipleship household, we were encouraged to make sure and spend AT LEAST as much time with the Lord in scripture and prayer as we spent getting ready to present ourselves to the world. It was a great heart challenge for us as to where our priorities lay!
Are you putting your hope in seeking beauty that doesn't fade? Are you looking for that in developing a heart that seeks after God?
Blogs I might be linking to:
Menu Planning Monday, On The Menu Monday, Erin Branscoms, Marital Oneness, The Better Mom, Multitudes on Monday, Hear it On Sunday, Sharing His Bounty, What Joy Is Mine, Playdates at the Well, Back to School Monday, Domestically Divine Tuesdays, Time Warp Wife, Funky Planet Frequent Flier Club, Encourage One Another, Living Well Wednesdays, The Welcoming House, Legacy Leaver Thursday, What's Up Wednesday, Thought Provoking Thursday, Hearts 4 Home, Thankful Thursday, First Day of My Life , Thankful Thursdays, Thankful, Thankful Thursday Brown-eyed Bell(e), Big Family Fridays, Faith Filled Fridays, Feasting In Fellowship Friday, Fellowship Friday, Homemaking Link-up Week-end, A Little R&R, Pieces of Amy